à L'Aiguillon-sur-Mer
Moulinette the Bouchot Mussel goes on an adventure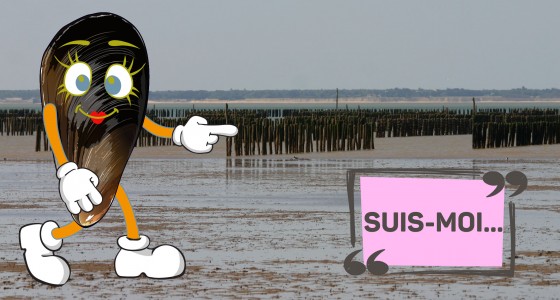 Moulinette the Bouchot Mussel (Bouchot Mussels : Atlantic tidewater mussels which are typically cultivated on stakes (Bouchot) is bored on her mussel bed in l'Aiguillon Bay, she's tired of living her life with the tides. She's tired of being cold when it's low-tide and windy, and being tickled by fish and crabs at high-tide. She dreams of bigger, more adventurous things, liberty.
One morning she decided, she loosened the grip which was keeping her attached to the wood so that she could fall into the oozing mud. She lets herself be carried away with the currents which take her to the river Lay. This is the start of her new adventure.
Wait, wait, what's going on, Moulinette feels something lifting her to the surface. Help! She cries.

Do you accept to come and see Moulinette and help her in her adventure, to live a new life?

This trail is accessible to all, all year round. It was created by both the Aiguillon sur Mer's borough and The Sud Vendée Littoral's Tourist Office.

Always think about safety, be careful whilst crossing roads. to start the adventure, go to the car park at the port.

Come on, let's go?!

Point de départ
Coordonnées
Latitude : 46.3355
Longitude : -1.3149
Rendez-vous à ce point de départ pour débuter le jeu de piste. N'oubliez pas de télécharger l'application Baludik